I hope you all had a wonderful Christmas & Happy New Year!!! Sorry I have not posted recently, but the holiday season sure makes this girl busy! Did you get everything you wanted from Santa :) ?
Over the holidays I watched Easy A with my boyfriend and I ADORED it! Such a funny movie, and not your typical teen film. My favorite line was " I wish my life was like an 80's movie". I sure wish my life was! The 80's look like they were such fun :)
Emma Stone was the leading lady in Easy A, and she did a wonderful job! She graced the recent cover of Nylon as well. I think we should all put her on our fashion radars if you haven't already!!
She is 22 years old, and has starred in popular films like The House Bunny, Zombieland, Superbad, and is currently filming for the new Spiderman movie!!!
I have found some great photos of her, I hope you like them!
What do you guys think of her style?
Thank you for following & commenting! You guys are great!!
xoxo
This dress is GREAT!!!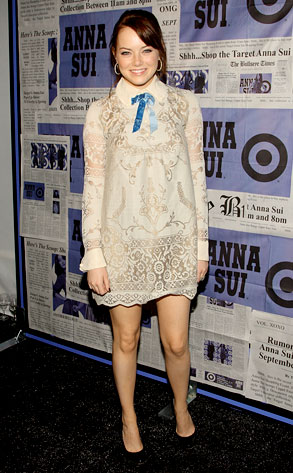 Recent news: Emma Stone goes blonde!!
Thanks for reading!!! xoxo