Hello readers!
I apologize for the lack of posts...I have been one busy girl!
This post is dedicated to PINK! I am in love with pink this season...I have found my favorite celebrity outfits with pink and included them below!
I am on the hunt for a bright pink blazer and a bright pink skirt! I saw some on the Zara site but they don't ship to Canada :(
xoxo
H
Blake Lively
MaryKate Olsen...I LOVE this outfit, the leather jacket is just amazing with the pink!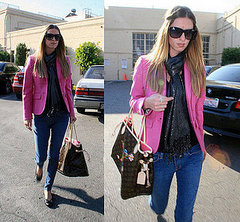 Nicky Hilton
Miranda Kerr
Taylor Momsen! Rocking IT !!! Love love love
Amanda Bynes
xoxo