Mary Kate and Ashley have been featured in quite a few online magazines. I found two recently, and the interviews were wonderful so I thought I would share!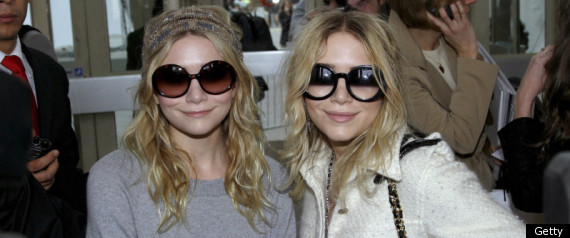 The first was in the
Huffington Post
. Where the twins explain their "Homeless Chic" look.
The second was on
Style.com
. It is part 8 in a series of discussions with leading industry figures.
A preview of the interview:
How has being women affected your designs?A: I think the way being women has helped us in our designs is that we do a lot of research on what women like, what women don't like.

MK: Also, for ourselves, we're really petite, so ever since we were six, eight, we've been cutting down clothes to fit our bodies, and that never went away…Just the little things, how the waistband fits, what you want against your skin, and what's flattering to your body and different body types.

A: What you'll show and what you won't show.

MK: Women that will show their arms and won't show their arms; there's so many things that women think about.

You're in an unusual situation for designers in the sense that you're also known as fashion icons. Does that term mean anything to you?
A: I don't think we ever related to anything that anyone calls us, but I think when we moved to New York…You know, we'd been involved in fashion even when we were doing movies at six and we'd have 25 costume changes, so it goes back so much further than that, as to what the public saw when we were doing our videos and our shows and the fashions that we focused on. And the fashion-forward trends, which really started the Walmart business, 'cause there were no cute clothes for kids, no cool clothes for tweens. Or tween didn't exist—I mean, this is how far this goes back. So it goes back further and maybe that word [icons] just comes out of that.

But is being "the Olsens" a brand you're conscious of separate from The Row?A: When we see Olsen and you put it in terms of brand, one, I think of all our video catalogs that we still have and that we can reinvent one day, if we want to go back to that Olsen branding celebrity thing, bringing the past into the future. That's one way, and then I think right now it's just important…What you're talking about as a brand is kind of just how we develop our relationships, our partners, who we partner with and how we all work together, and making sure we're in the right relationships with the right people.

MK: All over the world I think people know us from different stages of our life and different things, whether it's videos or Walmart or as designers or acting…I think it's remarkable that children know us now from things that we did 20 years ago, when we were little guys.

xo